Lecithin is a natural emulsifier used in the manufacturing of many very tasty products, like bread rolls, margarine, salad dressings, instant drinks and chocolate. One of the key ingredients for achieving the high quality level of these products is lecithin. The addition of lecithin results in an evenly composed product, a fluffy consistency in case of bakery products and extends the time before bread turns stale.
Beside the application in food production lecithin is used in animal food for cows, pigs, chicken and trout in order to improve growth, to avoid disease or to improve the animal breeding process. Non-food applications are water-oil-emulsions to replace pure oil in industrial manufacturing and further applications in the building industry, for leather care products and so on.
The lecithin used by food manufacturers is a mixture of phospholipids in oil, which is a by-product of edible oil refinement. The crude oil from soya beans, rapeseed or sunflowers has to be "degummed" in order to achieve a plant oil, which can be stored without any deposition or biological reaction, thus without any disturbance of the following process steps and without any quality loss of the food oil.
For degumming the crude oil is mixed with a small amount of water and an acid (usually phosphoric acid). The gums, which are not soluble in oil, are formed and separated by centrifugation. Finally, the gums are "dried" under vacuum resulting in a product with approximately 50% of phospholipids and 50% of oil, which has the consistency of honey.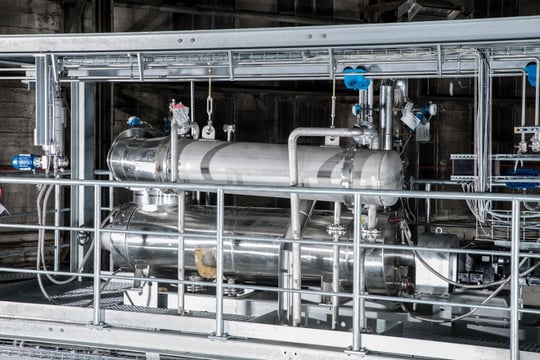 Since the lecithin from drying the gums is still liquid and the temperature as well as the residence time under elevated temperature is limited, thin film evaporation is a preferred technology to dry the lecithin. The type of thin film evaporator to be used depends on the required product quality. Food grade lecithin is preferably produced on Buss-SMS-Canzler's horizontal SAKO®KH, which is nearly a standard in high quality lecithin drying.
The SAKO KH dries the wet lecithin sludges produced in the degumming stage in one single step to a moisture content below 1 %. This horizontal thin film evaporator processes the lecithin which passes highly viscous phases during drying/dehydration - very gently, under vacuum, at temperatures up to a maximum of 120 °C. Subsequent fast cooling to a temperature below 60 °C improves the storage capability of the dehydrated lecithin.
More than 100 SMS SAKO KH lecithin dryers are used worldwide in renowned companies of the edible oil processing industry. These units are often part of an entire drying plant that has been designed and delivered by SMS.