Test Centre
Tests are a safe way to reach the objectives of application- and customer-oriented R&D projects and to make the correct investment decisions in the long run.
With this in mind we present our laboratory and pilot test centre in Pratteln (Switzerland) with 20 pilot plants for evaporation, high viscosity and drying technology.
From feasibility studies for new production processes to the design of new plants and basic tests for scale-up or process optimisation.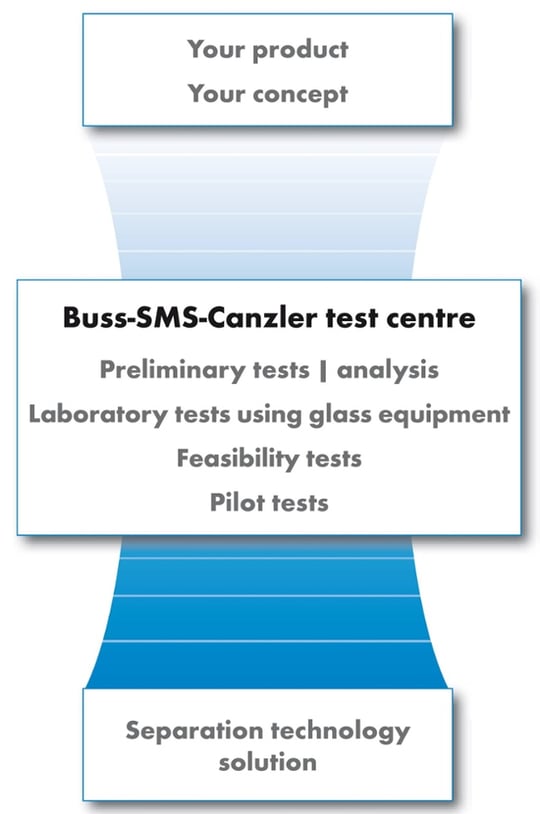 Our test centre offers you:
Lab tests with small product samples

Semi-industrial trials with evaporators, contact dryers and high viscosity product processing plants

Production of samples for research, marketing and authority permissions

Analytical laboratory for determining the product characteristics

Development of suitable equipment, plants and processes for your application

Confirmation of process performance and guarantees
Our test report serves you with:
Test plant documentation

Description of the test results

Analysis of the product samples
A service to make the capital investments of our customers more reliable.
Evaporation Technology
• Vertical cylindrical Thin Film Evaporators (TFE)
• Vertical, conical-shaped TFE type SAKO KV
• Horizontal, conical-shaped TFE type SAKO KH
• Short Path Evaporator
Drying Technology
• Vertical Thin Film Dryer, type CP
• Horizontal Thin Film Dryer, type D
• Combi Fluidization Dryer, type CFT
High Viscosity Technology
• Filmtruder / Viscon for devolatilization
• Filmtruder / Viscon for reaction
• Single shaft mixer reactor type Reactotherm
• Twin shaft mixer reactor type Reasil
• Twin shaft mixer reactor type Reacom